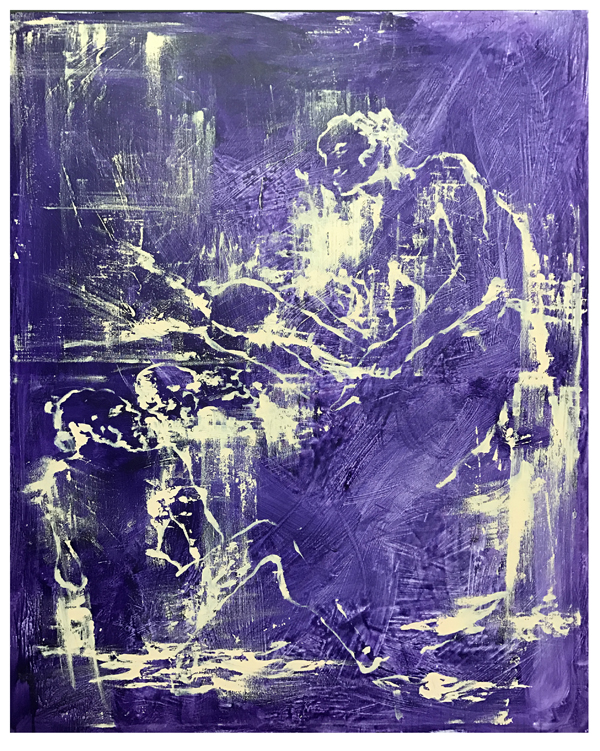 Coagula Curatorial: Manuel Ocampo & Irene Iré
Manuel Ocampo and Irene Iré accomplish the often-difficult task of formulating a joint show that appears cohesive without sacrificing the styles of either artist. Their different styles of abstract and figurative, colorful and subdued seem to be engaged in a conversation where both sides come to the same conclusion, just from different angles. Each grapples with organic forms, but from opposite sides of the spectrum.
Iré's works have implications of figurative play, along with strong color schemes and the impression that they may be prints instead of paintings. Ocampo's works, on the other hand, appear rooted in traditional forms with thick, buttery brushstrokes over symbolic forms rendered in a fashion similar to his obvious influence, Francisco Goya. Ocampo and Iré's paintings give the viewer a break from viewing the same style over and over, and it could almost be inferred that the works are stronger together than apart.
The influence of Spanish painter and printmaker, Francisco Goya is obvious given not only the title of the collection, but also the works themselves. This influence is palpable in different ways for both artists, as Ocampo has an almost copycat style to Goya's paintings—particularly the Black Paintings (1819-1823)—while Iré's work is reminiscent of Goya's etchings.
One aspect that is impossible to ignore is the artists' blatant sense of humor as demonstrated through their titles, along with the content that is at times sexual, demonic, and to conservatives who most likely will never view these works, disturbing. Peering closely at Iré's My Knee As A Medium, or Entretiens Sur les Sciences Secrètes (2017), one can find Baphomet. Meanwhile, in Abstenciones, Abscenciones e (In)Continencias (Iré, 2017), which beautifully mimics Ocampo's Trials (2017), a phantom appears to be enchanting some skeletal figures.
It is in this bizarre word play (my personal favorite being ¼ mitad de Chicharrones para la Oligarquia Hambrienta (2017) along with the dark, yet familiar visual landscape that Iré and Ocampo bring a delightful breath of fresh air.
Manuel Ocampo & Irene Iré, "Monument To The Pathetic Sublime: Resuscitating Goya or an All-out Attempt at Transcendence," April 8 – May 21, 2017 at Coagula Curatorial, 974 Chung King Road, Los Angeles, coagulacuratorial.com.