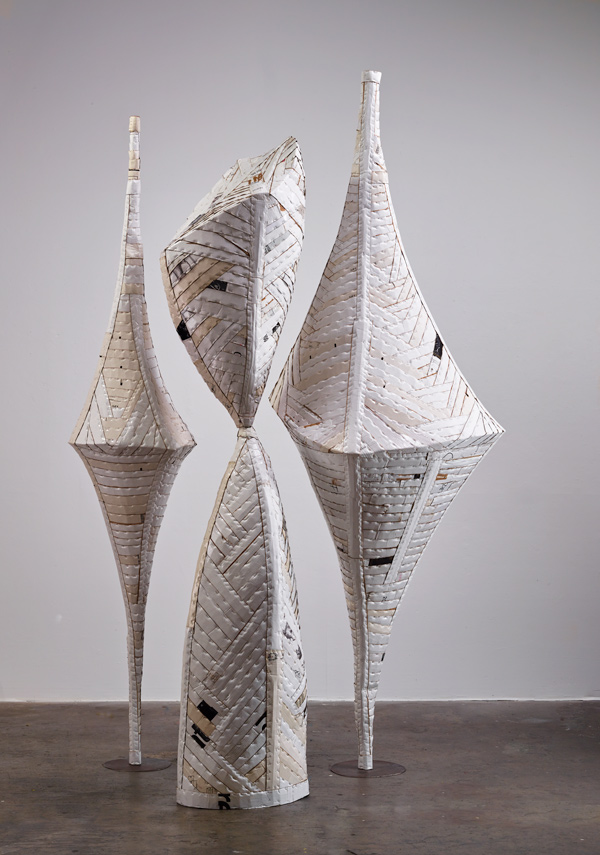 Cardboard Abstractions
Ann Weber: Sculpture
Most customers at Trader Joe's have food on their minds. Not Ann Weber. While others grab favorite items off the shelves, the intrepid artist heads for the dumpsters. Perpetually on the lookout for cardboard boxes to transform into sculpture, she has an eye for colorful labels, crisp black letters and remnants of shipping tape, but she isn't opposed to plain brown.
"I love making beauty from nothing," Weber says. And, as nothingness goes, cardboard is just about perfect. It's free for the taking and so light that she can easily pick up and move her works—even those that are bigger than she is. "Another thing that's important," she says, "is the basicness, the mundanity and commonness of the material."

At home in San Pedro, where Weber, 65, has lived for the last two years, she bends, twists, weaves and staples ragged strips of cardboard into organic abstractions that hang on walls or stand on the floor. A coat of polyurethane gives her oddly elegant bulbs and towers a glossy finish, but there's nothing slick about her work. At first glance, it seems as if she has merged the purity of Brancusi and Arp with the rawness of Arte Povera. Relatively simple in their sweeping, bulging silhouettes, the sculptures are richly complex in surface patterns and details.

A studio potter turned sculptor, Weber shifted from plaster to cardboard 15 years ago, while living in the San Francisco Bay Area. Weary of hauling heavy materials up the stairs to her studio in Oakland, she had an epiphany. "There was this big pile of cardboard on the floor and I thought about Frank Gehry's furniture," she recalls in an interview at the San Pedro galleries TransVagrant and Gallery 47, where an eye-popping array of her work fills the exhibition space.

"And then I thought, 'Who cares about material?'" Certainly not Weber, at least not in terms of preciousness. A connoisseur of dumpsters, she has rescued cardboard far and wide, including Italian trash bins during a residency at the American Academy of Rome, and now makes daily trips to her local Trader Joe's.

"I had used papier maché, like Niki de St. Phalle, working with very simple forms," Weber says. "And I had pulled balls of clay into cylinders. So I started making cardboard circles and cylinders, and then the cylinders sort of took on these personages, almost like Louise Bourgeois' Personages that I had seen at the Guggenheim in the '70s. At first I thought cardboard couldn't be the final material. But I liked it and just kept going. I felt that it had infinite possibilities. So that's what I'm still doing, although I do cast things in fiberglass or bronze for public art commissions."

Born in Jackson, Michigan, and raised in Evansville, Indiana, Weber earned her BA degree from Purdue University in 1972. She planned to become an interior decorator, like her hometown's most independent woman, but hated her first class. After changing her major to art history, she learned to make pottery from Marge Levy, who "knew all the heavy hitters in ceramics," she says. "Marge taught us not just how to throw, but how to think about sculpture."

Weber fell in love with a fellow student potter and married him the day after their graduation. They set up a pottery studio in Ithaca, New York, and "worked like dogs" for several years, she says. "But then I had had it, so we went our separate ways." After supporting herself by waitressing and running another pottery studio, she moved to New York and began selling her white porcelain pottery to retailers like Barneys, Henri Bendel and Bloomingdales. But production burnout led her to take a class at Greenwich House Pottery where her teacher, James Makins, advised her to go to graduate school on the West Coast. In 1985, Weber landed at the College of Arts and Crafts in Oakland where ceramic sculptor Viola Frey became her mentor. "I had no idea how to make the leap," she says. "Viola taught me how to be an artist, how to think like an artist."

These days, Weber thinks of her cardboard sculptures as "metaphors for my personal life experiences. Like how high you can make something before it collapses? Or the balancing acts. What do you give up to be an artist? What about family relationships and financial stability?" In the end, though, she has a broader view of her work: "It's an embodiment of something that speaks to people."

"Ann Weber, Sculpture" at TransVagrant gallery and Gallery 478, in San Pedro, has been extended through May 12.