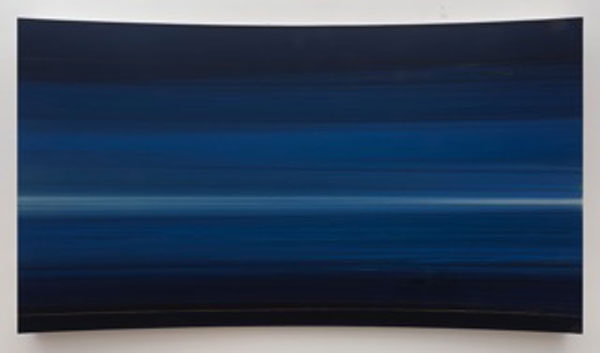 Andy Moses
Pete and Susan Barrett Art Gallery
The origins of Color Field—one of the more intriguing forms of contemporary abstract painting—seem to lie in 19th-century Romanticism, particularly in a few radically reductive watercolors by J.M.W. Turner. In 2015, when some of these were exhibited at the Getty museum, they were a revelation; never before had an artist so daringly reduced a painting to only one or two glowing areas of color.

Mark Rothko, whose signature style bears uncanny resemblance to those Turner watercolors, was captivated by Turner. As one of the most important painters of the 1960s, Rothko's influence can be seen in much of the work that was made subsequently, such as that of painters Kenneth Noland, Morris Louis, and Jules Olitski; Minimalist sculptors Donald Judd and Dan Flavin; and even Light and Space artists James Turrell and Douglas Wheeler. In fact, Rothko's innovative way of creating environments with multiple canvases was a precursor to installation art in general. But where has color field's influence gone in the medium of painting?

Andy Moses' mid career retrospective at Santa Monica College Gallery evinces a current artist grappling with the Color Field genre. The exhibition features work from the mid-1980s to the present, providing a concise survey of his development. Two hybrid works from 1988-89 combine text and painting in an interesting and somewhat humorous way. NASA to Probe the Heavens Natural Chemicals (1988) sources text from two New York Times articles and combines it with a painterly image that also suggests deep space, but Moses left this direction quickly to explore pure painting.

Some of the most successful works are from the mid-2000s. Both The Deep (2006) and Ocean of the Mind (2006) are in the tradition of reductive field painting and bring to mind various mid-century sources, particularly Barnett Newman and Rothko. Alternately, the seemingly abstract image of a central horizontal line surrounded above and below by subtly gradated color undeniably references ocean and sky. This oblique image—one familiar to anyone who has stood at the edge of the ocean and stared out across it—invigorates and sustains the work by retaining a connection between the formal, abstract image and the real world.

This is not true, however, of the most recent works, which are created with a painterly process that produces a marbleized effect. Optically active, works like Geomorph 1504 (2016) and Geomorphology 1801 (2016) are visually seductive, yet they function more like design objects than paintings. Resembling psychedelic surfboard designs, they fall short as paintings in part because they rely on a single technique, executed in one session and never reworked.

Paintings acquire depth through the process of their creation, and part of their visual interest is in the way we can reconstruct the thought processes of the artist by studying their surfaces. Moses' recent marbleized works show only an effect, and end up having all the expressive power of a polished slab of stone, attractive but superficial. Judging by other, more auspicious works in the exhibition, Moses is capable of better, especially if he can avoid the slick ambiance that is the salient feature of his most recent paintings.